Campaign Overview 
The Campaign is essentially the story mode of the game and available from the very start. The campaign is divided into three different modes: General, Elite and Legendary. Each campaign has 50 levels and each level has 5 stages. For every 2 levels you have as a commander, 1 level of the campaign becomes available.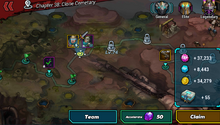 The Campaign is essentially the story mode of the game. In the Campaign, you complete chapters which each contain 5 stages. A new chapter becomes available for every 2 levels your commander gains. The campaign has 3 different modes (General, Elite, Legendary). Each has 50 chapters and after completing all chapters, you will unlock the next mode.
If your commander reaches level 100, you can complete the first mode of the campaign and advance to the Elite map. The higher the level of the campaign, the greater the rewards.
You are automatically stacking up auto-battle rewards. These rewards include experience for your commander (purple) and for your clones (blue). Rewards can be stacked up for no more then 8 hours. You can accelerate auto battles depending on your VIP level. Each acceleration gives you two hour of rewards and costs 50 diamonds.
Auto battles can reward you with hero fragments. A complete list of all fragments is listed below. Completing certain stages will give you special rewards:
Stage Rewards
Index of Clone Fragments on the Campaign Map
This is a list of all clone fragments to be found in the Campaign maps:
Community content is available under
CC-BY-SA
unless otherwise noted.